Ready for the digital transformation?
Digital Product Innovation
Customers love to engage and interact with digital products. Replace one technical feature with experience for success. Add
Customer Experience
to your R&D! How does the customer experience affect your value proposition? Do you know how your customers think, get motivated, act and share the product happiness?

Download: Amazon Go Store White Paper
Business Model Innovation
The
business model
provides a holistic picture of how a company creates, delivers and captures value by defining the Who, What, How and Why of a business. A study conducted by BCG and MIT Sloan found that business model innovation is a key driver for successful sustainability related innovations.
The business model elements:
CUSTOMER - who are our target customers? VALUE PROPOSITION - what do we offer to customers? VALUE CHAIN - how do we produce our offerings? PROFIT MECHANISM - why does it generate profit? Tommorrow's competitive advantage of companies will not be based on innovative products and services, but on innovative business models.

Download: Business Model Innovation Survey Results 2019
Management Coaching
Change management and culture
is a key success factor in any transformation project - identifying barriers and enablers is crucial for implementing growth and entering new areas. Thinking outside of dominant industry logic - is no simple matter. Mental blocks hamper the development of fresh ideas. The difficulty of thinking in terms of business models rather than of technologies and products.

Download: Digital Talents White Paper
Webinar
How is crisis affecting the business model and how to innovate it? In this online webinar you will get an update of different perspective how the Corona crisis is influencing business models. Every crisis is an excellent growth medium for new chances and business models. The webinar will give you a short overview about business model innovation and inputs of quick adaptions that you can try to implement for your business. The ticket also includes the physical book "The Secret Key: Business Model Innovation for Established Companies" for inspiration and look up afterwards. After the webinar you are able to visualize and innovate your business model as a first action. Business Model Innovation is not a 60min task, but with this webinar you will kick it off!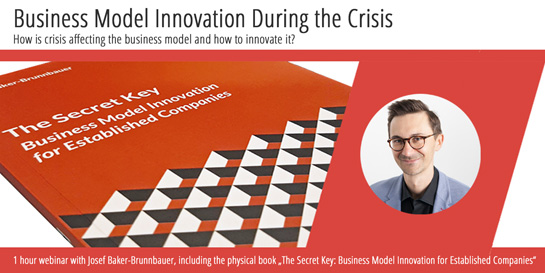 China Learning Expedition 2020

You can join the China Learning Expedition trip to Shanghai and Shenzhen. This journey is about sensing, hands on exploring, tasting and being hit by the Chinese tech sophistication that is bluffing everyone. China's tech scene is about to explode and cause massive disruption in established industries, and now is the perfect time to understand what is happening with your own two eyes. Update: Try the new online Innovation webinar from home.

Business Model Innovation During the Crisis

During a period of the Corona Virus Crisis, Managers and C-Level took part in an online survey to analyze the impact and state of their companys' Business Model. The results represent trend indicators and change opportunities. Detailed demographic data is described within the report.

Download: BMI Crisis Survey May 2020